While looking for information on population of Pakistan in Korean language, I came across this very, very negative reporting by Chosun Ilbo
here entitle: Pakistan: Land of Wars and Terrorism.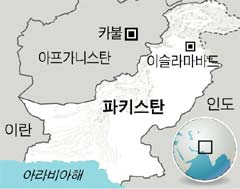 우르두어(In Urdu)로 '순수의 땅'(the land of pure) 이란 의
파키스탄
을
영국
이코노미스트는 '세계에서 가장 위험한 나라'로 꼽는다 (pointed out/considered). 탈레반(이슬람 근본주의 무장조직/armed organization )의 본거지 (stronghold) 인 북쪽의
아프가니스탄
, 1947년 독립한 independence) 후 네 번의 전쟁을 치른 (to conduct/carry out) '동쪽의 적국 (enemy) (敵國)' 인도 등 인접국 neighboring country) 과의 갈등 (to have a conflict)은 나라를 피폐 (impoverished) 하게 만들었다. '파키스탄 탈레반'에 의한 자생적(automatic growth) 테러도 끊이지 않는다. 파키스탄 인구의 약 15%(아프간 인구의 약 40%)를 차지하 (constitute)는 파슈툰족 (ethinc pashtuns) 거주지인 (reside) 북서부의 7개 '연방관할부족지역'은 중앙 정부의 통제에서 벗어나 (free, break away) 있는, 이슬람 극단주의 테러리스트들의 온상이라고 (breeding ground) 알려졌다.
독립 후 네 번의 쿠데타 (coup d'etat) 가 발생하(come into force) 며 정권 (regime) 이 자주 뒤집(turn over) 혔고, 가장 인기 있는 정치인이었던 베나지르 (Benazir) 부토 (Bhutto) 전 총리가 (former prime minister) 2007년 이슬람 극단 (extremist) 주의자 (ideologist) 에 의해 암살 (assassinate) 당하는 등 정정 (correction)도 불안하다. 현 대통령 아시프 알리 자르다리는 부토의 남편이다.
파키스탄의 인구(population) 는 1억7000만명으로 세계에서 여섯 번째로 많다. 이 중 5분의 1 정도가 하루 1.25달러 미만으로 생활하는 극빈(extreme poverty) 층 (level) 이다. 파키스탄에서 사용되는 언어는 60개가 넘어, 영어를 공식 언어로 ( used as an official language) 사용한다.
군사력(military power)은 세계 7위로 무슬림 국가 중 유일하게 (one and only) 핵무기(nukes) 를 보유했다 (possess). 최근엔
중국
인민해방군과 정기적으로 연합훈련을 하면서 역시 핵보유국인
인도
를 견제하고 있다. 1980년대 아프간-소련 전쟁 당시 파키스탄은
미국
편에 서서 소련과 맞섰지만, 1990년대 핵개발에 나서면서 미국과 갈라섰다. 2001년 알카에다에 의한 9·11 테러가 발생하자 조지 W 부시 전 대통령은 테러와의 전쟁에 파키스탄의 도움이 절실하다고 보고 파키스탄과의 적극적인 관계 개선에 나섰다.
I'm translating this piece and you can read it in a while...